What's more perfect for summer crochet outfit than a sexy crop top, allowing your skin to breathe? This irresistible design with vintage-inspired flared sleeves is a crochet dream come true. Style yours with high-waisted trousers to temper the shorter silhouette or with a maxi skirt for a glamorous, head-turning bohemian look.
I started making this pattern when it appeared on Free People website. However, I think it is better to publish it for those who missed purchasing it and would like to crochet the one of their own.
Love the look of this top but hate breaking the yarn after completing each motif? Me too! For this top additional photo-tutorial is included explaining how to crochet such round motifs without cutting off the yarn and how you can finish the loop of square motifs in each sleeve without hiding lots of ends. After grasping this NO-YARN-BREAKING concept you will be able to crochet all motif-garments without doing any harm to yarn skeins (and saving your time : ))
PATTERN for the crop crochet top is available here: 
https://www.etsy.com/listing/540177859/no-yarn-breaking-crochet-top-pattern
http://conceptcreative.store/product-category/tunics-tops-pullovers-tutorials/
Feel free to share photos of your completed project on mycrochet.conceptcreative.store  or Ravelry in exchange for one of these two patterns (please send me the details of your transaction and choose poncho or dress pattern).
You will receive:
► detailed tutorial in ENGLISH with charted and written explanations for crocheting every row (in case you are not used to work with the crochet charts);
► colourful diagrams supporting this pattern;
►  photo-tutorial for working such round motifs without cutting off the yarn and making the loop of square motifs in each sleeve without hiding lots of ends.
This crochet pattern is given for bust circumference 91 cm/36". I have included suggestions on how big should be your gauge if you wish to crochet this crop top for bust circumference 84-89 cm/33''-35" and 96-101 cm/38-40''. In this case you will need to use another yarn and/or hook (for example, for bust 101 cm/40'' the width of each round motif will be just 1 cm (0.4") larger than in the original top shown in photos).
 – preview
Not shown in this preview are 3 additional files revealing all connections between motifs in sleeves, front and back – these are separate scaleable layouts for magnifying all stitches in your computer or tablet and allowing to crochet beautiful top shown in the cover photos.
Not shown in this preview is 5th PDF – additional written and charted tutorial with 64 photos illustrating my NO-YARN-BREAKING concept for all round and square motifs in this garment.
P.S. Recently I came upon this chart for SIMILAR looking vintage motifs: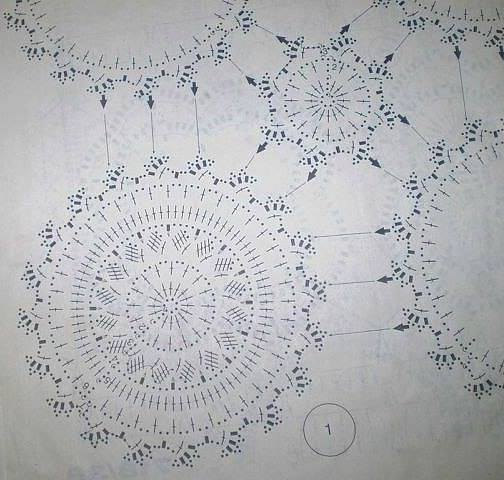 , though NONE of these rows corresponds with rows in top shown in the cover photos. I've also noticed that some not reliable pattern-shops recopied instructions for doilies published in vintage crochet magazines to promise you the same crochet top. Come along after you have received complete refund from them because such patterns show how to make similar looking doilies but offer vague and not tested connections between motifs in sleeves so that you will need to find your own way of arranging everything into the ORIGINAL crochet top shown in the cover photos.