Ensure you have a head-turning look for the beach with this stunning crochet dress. The silhouette is breezy and comfortable, this style features exaggerated, flared sleeves for a fluttery, feminine style that will make this a favourite cover up all season long. Wear yours with leather sandals and round sunglasses for a bohemian look.
This going to be your FREE crochet pattern if you have purchased this top before and uploaded photos of your completed project on mycrochet.conceptcreative.store or Ravelry (convo me for sending this pattern to you, stating the details of your transaction).
PATTERN for this boho crochet dress is available on Etsy and in my shop: 
https://www.etsy.com/listing/545576411/boho-crochet-dress-pattern
http://conceptcreative.store/product-category/dresses-tutorials/
You will receive:
► detailed tutorial in ENGLISH with charted and written explanations for crocheting every row (in case you are not used to work with the crochet charts);
► colourful diagrams supporting this pattern.
These instructions are given for size S shown in photos. I have included suggestions on how big should be your gauge if you wish to crochet this garment for sizes XS, M and L. In this case you will need to use another yarn and/or hook.
 –  not shown in this preview are 2 additional files revealing all connections between motifs – these are separate scaleable layouts for magnifying all stitches in your computer or tablet and allowing to crochet beautiful garment shown in the cover photos.
P.S. Recently I came upon this chart for SIMILAR looking vintage motifs: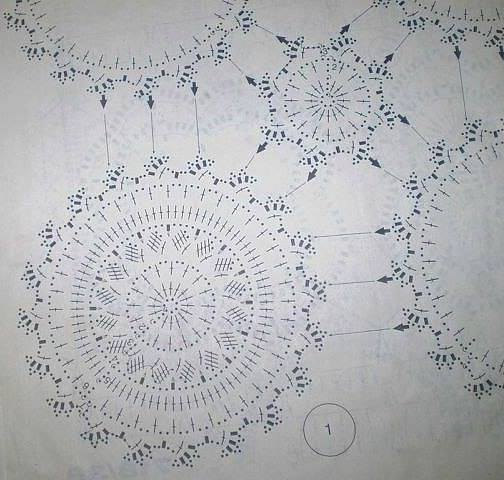 NONE of these rows corresponds with rows in garment shown in the cover photos. Still, why not to crochet a couple of doilies and compare them with ORIGINAL motifs in this dress? Surely you do not need to buy these charts from vintage crochet magazines in some Etsy shops : ).
Why this detailed crochet tutorial is not shared in blog as other FREE patterns?
There are many Etsy shops who search for free patterns on the internet and then resell them as their own. Probably every second crochet pattern offered on Etsy was taken from a magazine (vintage or new one) or from free blogs with charts. Some people create/repost more or less similar charts to attract more visitors to their blogs and all those free charts/free patterns appear one day on Etsy. I can name many of such Etsy shops and provide links to the original free patterns :).
I do not wish to support these shops – drawing HQ charts for this dress took a while as well as describing all stitches. Yes, it is FREE addition to all those crocheters who already purchased pattern for crop top with the same round and square motifs.