Our intrinsic sense of what we consider beautiful often comes from symmetry and proportion. We often notice that some crochet garments make us look great and feel young, while others make our figures heavier. No design or color can make us look perfect if the proportions are wrong.
P.S. One crocheter mentioned that I should wear undergarments – actually I do have it in every photo :).
Design elements:
In this dress I tried to change the perception of my rectangular man-alike figure – combined feminine details like shell motifs that provided softer touch to my broad shoulders with triangles that optically created the proportional hourglass figure. The horizontal lines added more interest to the whole A-line garment, while the fringe-trimmed bottom created a moves-with-you modern silhouette.
This crochet pattern is provided for sizes:
XS with bust circumference 78-84 cm (31-33''), hips up to 90 cm (35.5'');
S with bust circumference 85-91 cm (33.5-36''), hips up to 98 cm (38.5'');
M with bust circumference 92-98 cm (36.5-38.5''), hips up to 106 cm (42'');
L with bust circumference 99-106 cm (39-41.5''), hips up to 110 cm (43.5'');
XL with bust circumference 107-114 cm (42-45''), hips up to 120 cm (47'');
2XL with bust circumference 115-122 cm (45.5-48''), hips up to 128 cm (50.5'').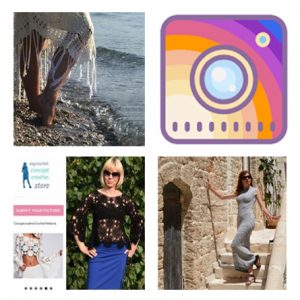 The length of the tunic is 60 cm = 23.6'' for the size XS and 79 cm = 31''for the size 2XL (the bigger is your size, the more rows are worked before the triangles meet). Dress is crocheted up to the length 96 cm = 38'' (as the sample shown) or up to desired length.
Gauge: 19 dc x 8 rows = 10 x 10 cm (4'' x 4'').
Yarn: 200-250 m in 100 gr / 219-273 yards in 3.5 oz / producers label such a yarn as 8-10 ply (UK, AU), DK or Worsted weight (USA), 3-4, or Light-Medium (by yarnstandards.com), therefore please use yarn that gives the same width of the stitches (gauge)
Choosing the right YARN and HOOK to achieve great results
DOWNLOAD this crochet pattern from my shops:
https://conceptcreative.store/shop/proportions-crochet
www.ravelry.com/patterns/library/proportions
www.lovecrafts.com/catalog/product/proportions-crochet
www.etsy.com/listing/211487640/modern-crochet-dress