*****
Back from holiday and with already published crochet pattern! 😊
And it was the best crochet thing for the beach! 👌
Special thanks to my testers @crochet_uk.co.uk, @grootenancyde, @lookingforbestthings
Mel from @crochet_uk.co.uk has even crocheted it with her own handmade gradient yarn!
I love creating interesting names for my patterns – it gives a feeling of completion to my work and a great sense of satisfaction. This time I named my pattern Southern Cross TOP (or Crux TOP) – after a constellation centered on 4 bright stars in the southern sky in a bright portion of the Milky Way. It is among the most easily distinguished constellations and is present on the flags of Australia, Brazil, New Zealand, Papua New Guinea, Samoa. I can't wait to wear this top while strolling down the streets of Melbourne and Sidney at night and gaze at the stars with my loved one. It will be such a romantic and educational journey!
The bright stars in Crux were known to the Ancient Greeks, where Ptolemy regarded them as part of the constellation Centaurus. They were entirely visible as far north as Britain in the 4th millennium BC. However, the precession of the equinoxes gradually lowered the stars below the European horizon, and they were eventually forgotten by the inhabitants of northern latitudes. By 4th century the stars in the constellation we now call Crux never rose above the horizon throughout most of Europe. Dante may have known about the constellation in the 14th century, as he describes it in his Divine Comedy.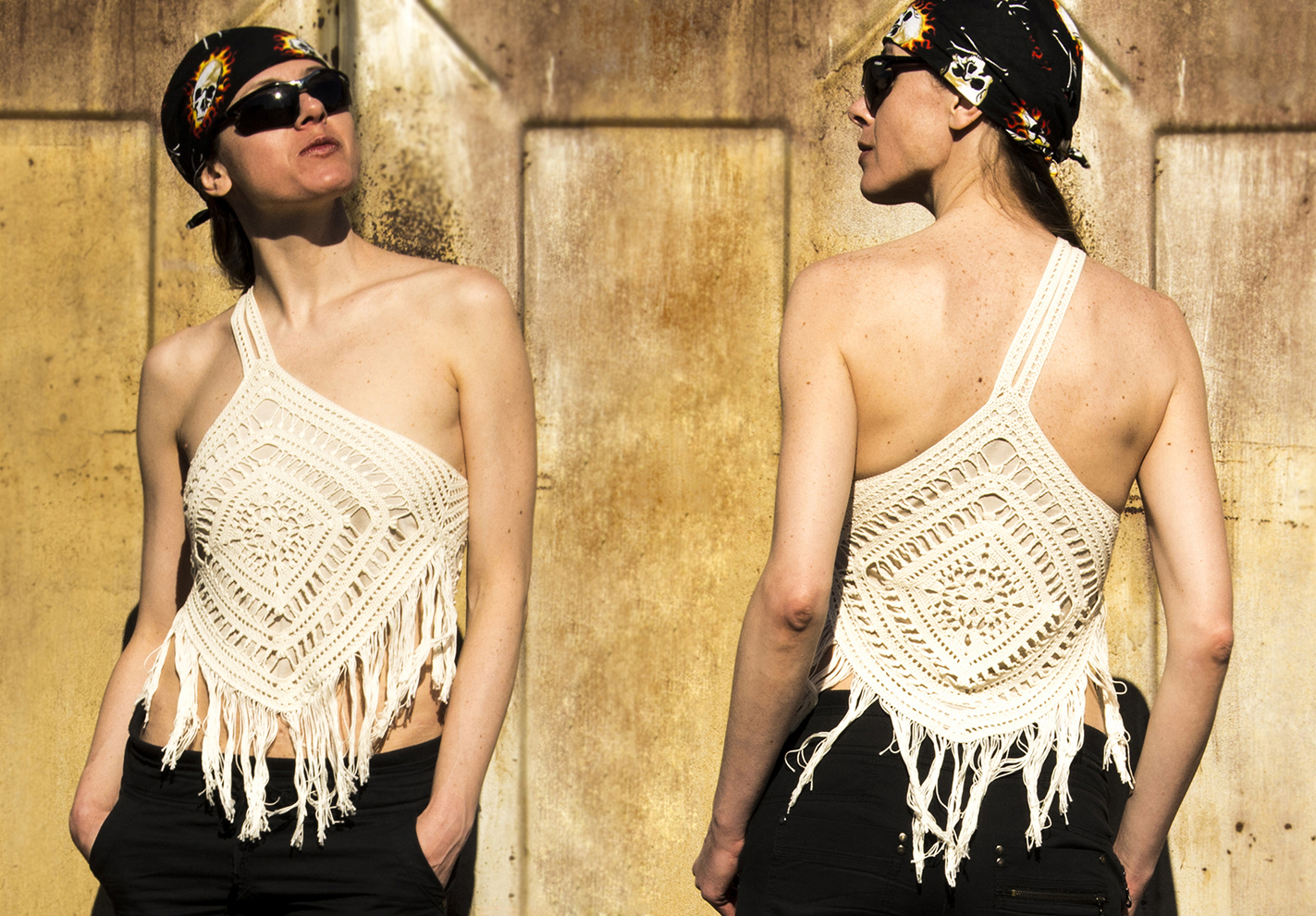 DOWNLOAD this crochet pattern from my shops:
https://conceptcreative.store/shop/Southern-Cross-Top
www.etsy.com/listing/154450237/beach-crochet-top-pattern
www.ravelry.com/patterns/library/southern-cross-top
www.lovecrafts.com/Southern-Cross-Top
This crochet pattern includes detailed tutorial in English with charted and written explanations for crocheting every row, as well as photos of the tricky parts (18 pages in total). The pattern is written in American crochet terms.
The width of first 13 rows is considered as gauge and depends on the chosen size.
This crochet pattern is given for bust circumference 83-90 cm (32.5''-35.5''). I have included suggestions on how big should be your gauge if you wish to crochet this top for bust circumference 92-99 cm (36''-38.5'') and 101-108 cm (39.5''-42''). In this case you will need to use slightly thicker yarn and/or bigger hook.
Cotton for size XS-S: thread number 10 / Lace / 3 ply / 560 m in 100 gr / 616 yards in 3.5 oz
Cotton for size M-L: thread number 5 / 3-4 ply / from 440 to 500 meters in 100 grams / from 481 to 547 yards in 3.5 oz)
Cotton for size L-XL: Fingering-weight / 4 ply / from 360 to 430 meters in 100 grams / from 437-481 yards in 3.5 oz)
Choosing the right YARN and HOOK to achieve great results
Look forward to seeing your beautiful tops!